This website offers…
Soil-related news, with a special focus on Belgium
Information on events organized by SSSB or interesting for SSSB members
How become an SSSB member and what are the advantages?
Transparent reporting on activities of the SSSB
How come in contact with the soil community?
Mission of the SSSB
The soil science society of Belgium is an organization gathering all actors of the soil science community in Belgium. The society informs these actors of soil-related challenges and opportunities, recent developments and contributes to the preservation and enhancement of soil resources for future generations. The SSSB provides networking opportunities between different disciplines of the soil science community and between universities, government agencies and companies in order to promote a transdisciplinary approach to soil science with special attention to young talent. We are a bridge between employees and job seekers. The society is also the first contact point for international exchange on soil-related topics.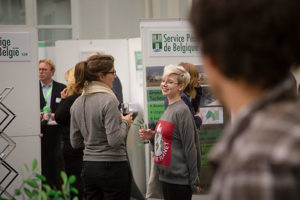 History
The SSSB was founded in 1950 with the purpose to contribute to the advancements in fundamental and applied soil science and to promote scientific research in this field. This original mission of SSSB is more relevant now than ever – soil and soil suitability comes daily in the media in the public debate: trade- offs between food production versus bio-fuels, the preservation of our pristine soils, the conservation of our soil heritage, the rehabilitation of marginal lands and the remediation of polluted soils.